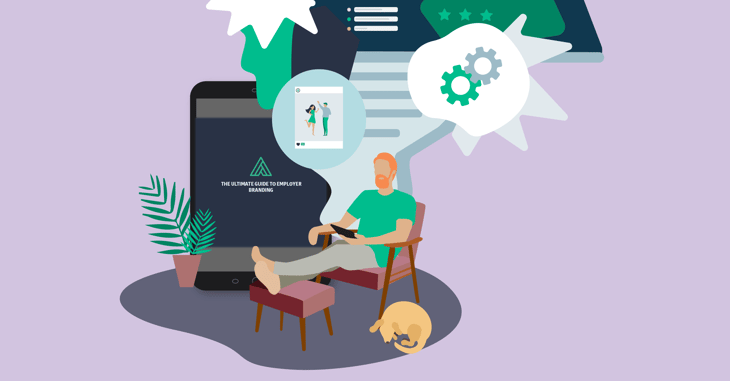 Employer brand is becoming an all-important currency for businesses around the world, as they fight tooth and nail to add the best and the brightest employees to their ranks.
In a candidate-driven labor market, how potential employees perceive you as an employer can mean the difference between hiring the top talent - or having to make do with the leftovers.
That's why companies that know the value of human capital invest heavily in employer branding strategies and practices that help them stand out in a crowd, as well as bring them one step closer to becoming an employer of choice in their industries.
To help you strengthen your employer brand, we've created this ultimate guide to employer branding. Once you go through it, you will have a clearer idea about:
Why almost everyone in the world can list the benefits and perks of working at Google


What employer branding is and how businesses benefit from a strong brand


The three key areas to focus on when building a strong employer brand


What stories to publish on social media to reach and motivate your ideal candidates


Why Should You Be Concerned About Your Employer Brand?
After all, you've gotten this far without ever thinking about it, right?
Well, that might be true but times are changing, and they are changing fast.
Today's labor market is candidate-driven mostly because of three things:
Record unemployment rates in the United States and the European Union,


An uptick in small and medium businesses across the globe,


The need for (almost) all employees to be computer literate and tech-savvy.
What this resulted in is a power shift from the employers to the employees. If an employee has marketable skills - and can execute - they will get five offers the minute they hit the labor market. Most companies will bend backward to give them what they want: more money, more autonomy, flexible working hours - anything they want.
And because candidates get to choose, it's down to businesses to prove that they are the ones worthy of being picked.
Companies with a strong employer brand get the employees that they want and need. But, that's not all - they get something else, too. They get to save money in the long run, which increases their year over year profits.
Companies with a bad employer reputation pay, on average, 10% more in salaries for key employees. (Harvard Business Review)


They also have a 43% higher cost per hire because their recruiting process is not streamlined and they often hire candidates that turn out to be a poor fit for the culture. (LinkedIn)


Also, if a candidate doesn't like your reputation, you might not even get the chance to interview them or even hear about them - 50% won't consider applying for your open positions. (Corporate Responsibility Magazine)
You can easily sidestep these issues and hire and retain the best people for your company. The only thing you need to learn to do is to treat your pool of potential employees like you treat your paying customers. You need to identify them, spend time on social media sites where they hang out, engage in a meaningful way, and create engaging and informative content that shows the human side of your company.
Simple, right!?
Implementing these employee brand-building activities is easier said than done. That's why we've created this Ultimate Employer Branding Guide - download it today for free and learn everything that you need to know to build a powerful employer brand from scratch!