Over the previous months, our development team has been very busy behind the scenes. Not just on introducing new features and improvements in the Ambassify platform, but analyzing what has been built so far, listening to how our users actually use the platform and making things not only more efficient, but smarter.
So with that in mind, we enlisted the expertise of Jovi Verheyen, renowned UX/UI designer, to help us piece together everything we had developed over the years, to map out a new way of looking at things, and above all else to make the entire experience of using Ambassify even easier for our users.
Whilst a lot of companies keep work like this quiet we decided to pull back the curtain a little and give everyone a taste of what's to come in the Ambassify platform. We had a short chat with Jovi about his approach and to get his thoughts on particular improvements he has helped us develop:
Jovi: " The starting point was the idea Wim (Head of Development at Ambassify) had to give the admin who is creating a new campaign, the feeling as if they're actually seeing the campaign in front of them while he or she is working on it. Today, admins run through a series of forms depending on the type of campaign they want to build. This feels like a lot of work and feels repetitive after a few times. We were sure we could make this process easier for our admins.
One of the first key-decisions we made, was to re-organize the templates/campaign presets. There are currently about 45 different campaign presets in the platform itself. That's a lot to choose from. We placed ourselves in the shoes of the admins and asked ourselves the question: "What is the end-goal of this new campaign I'm creating here?". We managed to re-group these 45 presets in 5 big groups based on that goal.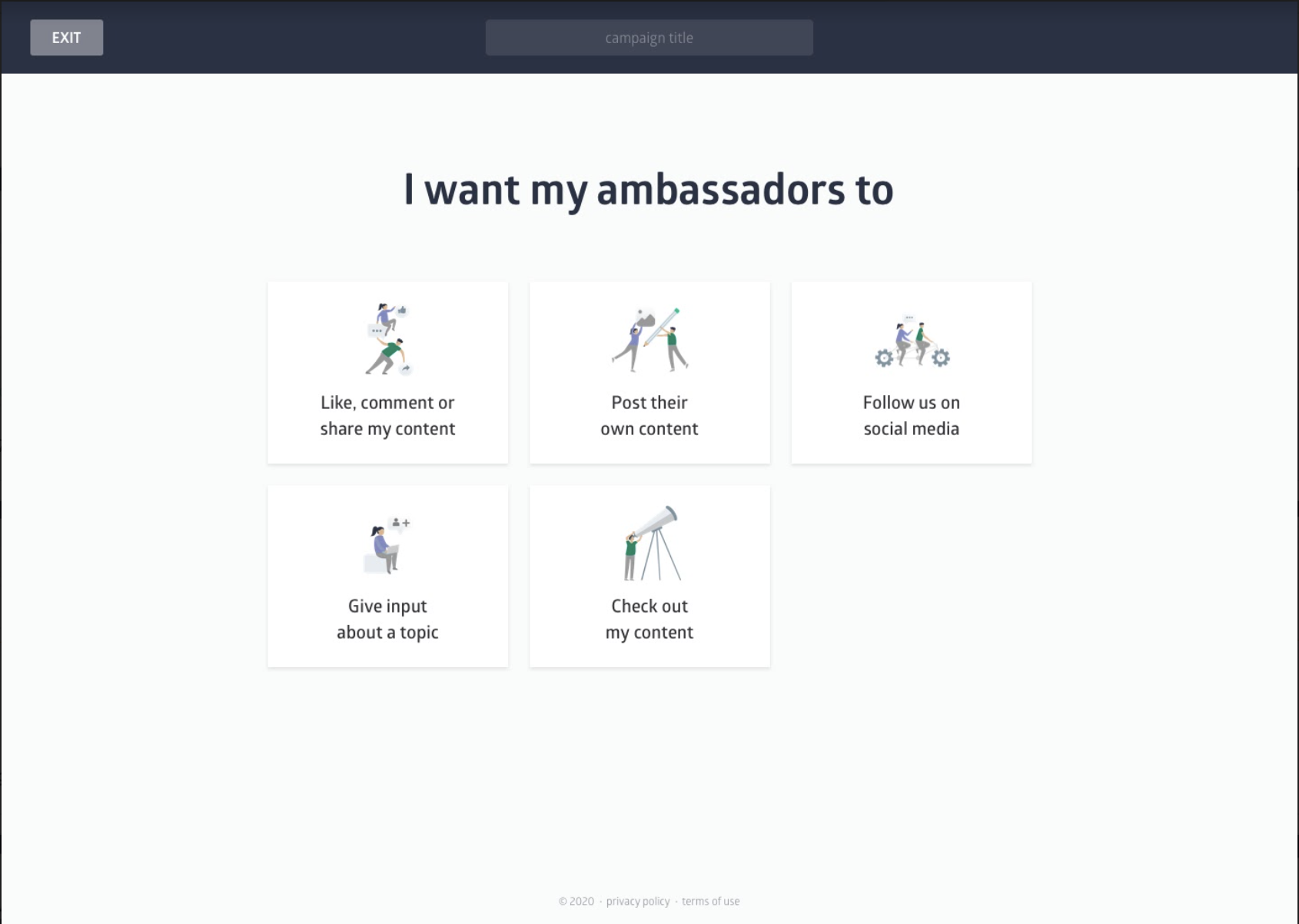 As a second big improvement in the campaign builder, we re-designed the interface to configure your campaign. Instead of having up to 8 steps an admin has to go through each time they're creating a new campaign, we decided to give them a lot more freedom. Thanks to our new 'What you see is what you get' interface, admins can fully customize their campaigns however they like and in their preferred working sequence.

Whilst working on this new interface, we spent a lot of time making sure the admins get to see what they need, when they need it. If they want to edit something like the rewards for example, the just click on it, and a small overlay appears to guide them through that part of the flow. Admins don't have to go looking through multiple pages to find a specific setting for their campaign.

Personally I'm most proud of the fact that we managed to give the system a complete make-over and even expand its functionalities, whilst making sure the screens stay as clean and simple as possible".

---
Our development team is already hard at work building these new interfaces and streamlining existing features, and we'll release more information once they are tested and ready for our users. But rest assured, we're making working with Ambassify even easier and fun, so keep an eye out for more updates soon!