Celebrity endorsements are still a big part of marketing strategies.
Singer songwriter Kanye West is currently the face of an Adidas campaign, George Clooney has always been the face of Nespresso and Footballer Cristiano Ronaldo promotes a Japanese gadget that improves your smiling muscles.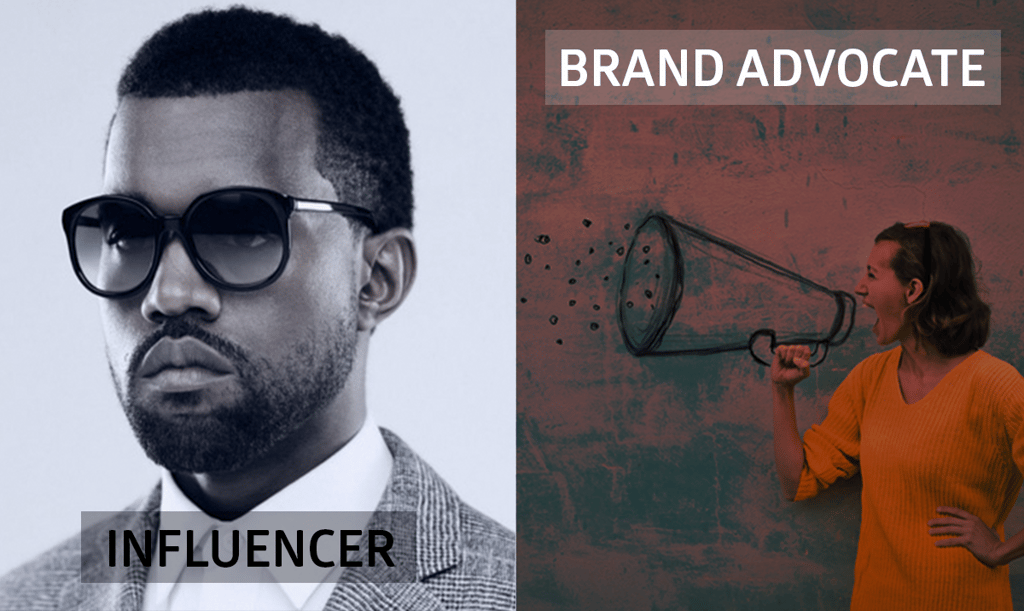 What all these examples have in common is influencer marketing. Most consumers no longer react positively to such paid advertisements.
Would you change over to Norton AntiVirus because it has Snoop Dogg as a spokesperson? (We admit this one is up for debate)
Let's face it; consumers these days are not going out of their way to search which influencer is endorsing their potential purchase. The modern shopper increasingly relies on online reviews, referrals and recommendations through close social media circles.
Effective marketing arises from trusting peers rather than relating to celebrities. While big names endorsed by brands are defined as "social influencers" these smaller voices coming from consumers' inncer circle are called "brand advocates".
Lately, companies are shifting their focus on brand advocates and they have solid reasons for doing so and here are three important ones:

#1. ARE YOU INFLUENCING THE BUYING PROCESS?
The space where social influencers and brand advocates roam are different. Social influencers inhabit "Owned Media" which is comprised out of content marketing, search engine ads and social media campaigns.
Even though they are not an employee of the company they are included into marketing strategies. Their affiliation is meant to bring credibility to a product.
Campaigns through social influencers are targeted to new customers. Many influencers have a large online following thereby, getting an endorsements means an expansion in social media presence.
Celebrity voices are impressionable towards fans and boost recognition of products. In terms of initial marketing, these attributes are valuable. Further down the line their effectiveness tends to fade.
Many internet users have an ad blocker making cross website banners with social influencers fruitless. Therefore steering a promotion into owned media confines where the conversation takes place.
Source: designtaxi.com

The modern consumer puts more weight into friend referrals, dedicated YouTube channels and online reviews. These word-of-mouth marketing spheres are defined as "Earned Media".
Here we find the 'brand advocates', which is an umbrella term for people who favor certain brand products over others. Unlike social influencers, it's harder to categorize them.
Advocates can be employees of the company in question, experts in a niche, users on a dedicated forum, people that leave extensive product reviews on amazon or simply a passionate fan in your friends circle.
Brand advocates occupy the space of earned media. They directly impact the information potential buyers are looking.
A customer who's looking to buy a tablet is noit going to plow through Taylor Swift's Twitter feed to get a glimpse of her promoting that product...
Owned media has a temporary effectiveness because social influencers don't extend their reach beyond their social media following. In comparison to Earned Media, brand advocates are contentiously active on online platforms dedicated to making purchasing decisions.



#2. WILL YOUR INFLUENCERS SEAL THE DEAL?
The king of all social influencers is David Beckham with his endorsements ranging from Adidas, H&M, Samsung, Diet Coke and many more.

Although he is a well-known sports athlete it seems his personality also fits that of clothing lines, beverages and technology.

Beckham might seem like an extreme example but herein lies a common disadvantage brands have with social influencers. People that cater to a big following also get approached by many companies.
It's hard to stay on track with the developments and range of certain products, let alone over multiple brands.

Social influencers don't have to take responsibility over the performance of their endorsements. If you are a volleyball athlete, David Beckham will recommend you to buy Adidas shoes, but when you're looking to buy in a specified field it pays to hear from like-minded buyers.

Same goes with basketball star Lebron James who promotes Samsung products but tweeted that his phone crashed, rebooted and deleted all of the data. We know social influencers are a great face for brands but we also understand they're not experts. Every once in a while there's an influencer who even damages the brand image...
When it comes to brand advocates, consumers put weight in their knowledge and passion. For this reason, it is crucial for many advocates to spot new changes, trends and tools within their area. Their reputation is linked to their know-how.

When looking for an online review it is beneficial to know how competing products stack up against each other.

Therefore, advocates are more likely to know multiple products within the same brand and can clarify differentiation in price range and quality.
Advocates have sympathy towards their favorite brands and this feeling reflects onto consumers. They bring about identifiable reasons why a certain purchase makes sense to buy.
Social influencers however, are less involved in this process. While they are great for brand image, they lack persuasiveness in sealing the deal.



#3. ARE YOUR INFLUENCERS ACTIVE EVEN AFTER A CAMPAIGN?
Marketing through social influencers is nothing new. The trajectory of setting up such a campaign is pretty straight forward.

These days the term also extends beyond the normal form of celebrity. Many popular individuals on Facebook, Instagram and Snapchat are being approached by companies.

Working together with well-known names puts your product in the limelight. Through this strategy,you are getting your campaign across to their following but not necessarily to the people who are in the buying process.

Noteworthy is that, after the campaign is over your social influencers move on to other endorsements.
Shifting your focus on brand advocates puts you right into the purchasing sweet spot. Including them in your marketing strategy does require another way of thinking.

First of all, they form a diverse demographic and are active on multiple websites. A point of departure is identifying individuals and approaching them. Many companies use their pool of employees as a resource.

Noteworthy is for example that employees develop 7 times more leads than conventional marketing when sharing brand content.
Besides employees, external fans can also be incorporated. Setting up a network of contacts and assessing their willingness to collaborate with your campaigns is the next step.
After a campaign is over these fans will remain loyal to your product as much as they were before. Them being part of it might even reinforce a stronger connection to your brand. The lasting effects for brand advocates remain visible for a longer time.
#4. BRAND ADVOCATES VS. SOCIAL INFLUENCERS
Progressive companies have good reasons why they put more trust in brand advocates rather than social influencers:
Brand advocates:
inhabit the sweet spot where customers make purchasing decisions





have a wide knowledge of your brand and the many products





remain loyal and passionate even after a marketing campaign ends
If you are new to this kind of marketing an exclusive brand advocates community might be the solution for you. If you're looking for more resources on how to start with advocate marketing, check these blog posts:
---