Whilst some people might be working on their sun tan or sipping cocktails by the pool, our team has been busy making improvements to the Ambassify platform to benefit our users, and introducing a new campaign type as well! So here's what's new for July 2019:

New campaign reporting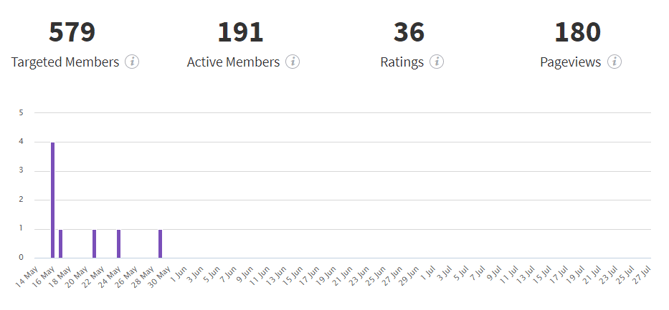 It goes without saying that the data you generate from campaigns is vital information. It helps you shape future campaigns, highlights the types of content your audience prefers to engage with, and identifies the members of your community that are highly engaged with your efforts. With that in mind, and based on feedback from our customers, our team has been working on better ways to visualise the data generated from your campaigns, so you can gain a better insight into how your individual campaigns are running.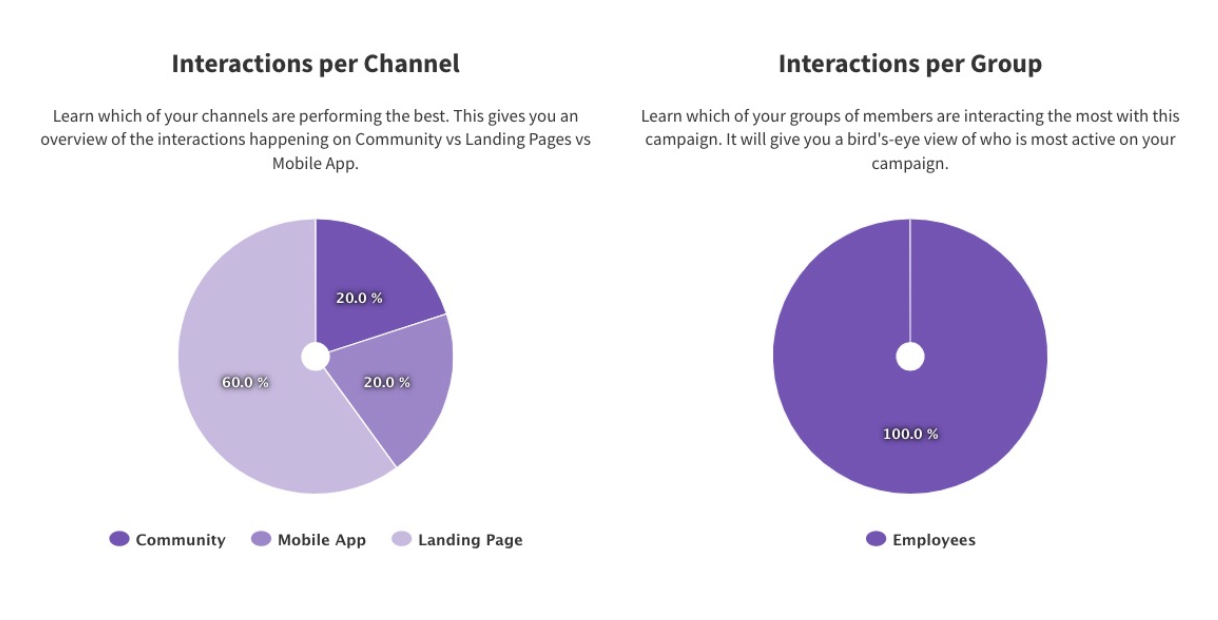 In the example above, you can see the types of interactions per channel, and per group. In this instance you can clearly see that the community channel is outperforming the mobile app and landing page, with 100% of the interactions carried out by the group named "Employees". You could carry out tests on campaigns by filtering on your group and seeing how they interact with different channels. In doing so, you'll learn quickly which channel is preferred across your different groups, and plan your content to suit that channel.
---
Image share campaign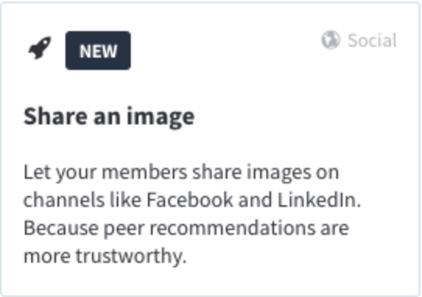 We have launched a new "Image share" campaign to a select group of customers who requested this campaign type. The image share campaign allows your audience to share images instead of links on their social media. So if your company has a new content strategy based around telling stories via powerful imagery, then this campaign type is for you! If you are interested and cannot find this new campaign in your catalog, then click the chat button on the lower right of your screen to speak to us!
Filter campaigns & messages via author/target group


You can now filter your campaigns and messages to show only those that have been created by a specific author, or are targeted at a specific group of members. You can choose these options in the dropdown above your campaigns or messages list to activate the filters, making it easier to find specific content for reporting or analysis.
---
And that's all the updates for now! We've got a lot of great features in the pipeline right now, so stay tuned for more updates soon! As always, if there's a particular feature you would like to see introduced into the Ambassify platform, don't hesitate to get in touch with us! Simply click the chat button on the lower right of your screen and let us know your thoughts. We'd love to hear from you!